January 27th, 2011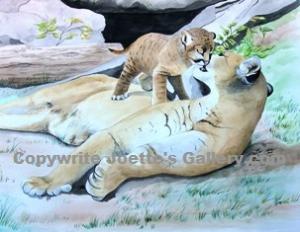 Mountain Lions and Predator Control Program, the Balance of Nature
Joette Snyder is a wildlife conservation artist, who likes to work in watercolor and graphite pencil. She can help these causes by purchasing a print or original artwork as 15% of profit is donated to wildlife preservation http://joette-snyder.artistwebsites.com or contact her at Joette@joettesgallery.com
Federal Governmental Wildlife Predators, how did this happen? It is not just Nevada that is controlling our Wildlife Population by killing millions of mountain lions, wolves, coyotes, bobcats and more. Well how does this profit? Certainly not our wildlife, Mother Nature can do a perfect job without costing or using the taxpayers' monies.
Wild Horses and Burros would be kept in controlled numbers by natures predators, wolves, mountain lions (cougars) would have done their job of weeding out the sick and the weak. The only ones better off with killing preditor wildlife is the recreational hunters and ranchers. The heads of these federal departments and a form of "welfare ranching," this allows commercial producers to graze livestock on public lands at below-market rates and fence waterholes for their livestock use. Can you imagine being thirsty, bring your family (herd) to water and it is fenced off with cattle or sheep using it! The Kill methods used to eliminate predator wildlife is vicious it includes aerial hunting, trapping, snaring and poisoning. (Palin knows all about these methods in Alaska). Then the round-ups are equally vicious in nature by scaring and running the mustangs to the ground.