June 26th, 2012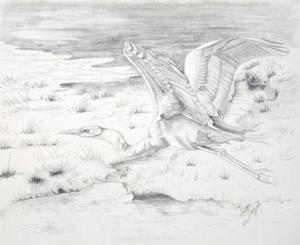 Just finished this drawing of the Great White Egret, I used a photo from my cousins photo gallery on Facebook, you can read more about this drawing on my Joette's Gallery website. It is a blog platform website. You can visit David Jay Trachtenberg's photo gallery on FB at www.facebook.com/david.j.trachtenberg

May 13th, 2012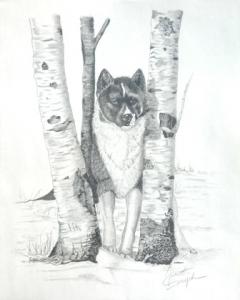 Ihasa in the Woods receives a Third Place Win at the San Fernando Valley Art Club 2012 Spring Juried Show! What a surprise with all the wonderful artists in our club to get this win. The show reception was last night May 12, 2012, a great success, and so much fun with great food, friends, and music. Our show runs from May 12 through June 9, located at Gallery 800 at the Historic Lankershim Arts Center, 5108 Lankershim Blvd, in North Hollywood. I hope you can visit and enjoy all the wonderful art created by our members for this show!
March 11th, 2011
Want to make your creations count for something? Will you work with us to help "Willow" the mountain lion cub cozy into her new home at the CALM zoo in Bakersfield? The CA Wildlife Center can sure use your artwork in our annual auction fundraiser to keep their Malibu surgical center and wildlife rescue facility staffed and stocked with lifesaving food and meds for Southern Californias wildlife when in need. The San Bernardino Raptor Rescue and Critter Creek along with the San Dimas Nature Center, The Eaton Canyon Nature Center, Ballona Wetlands Reserve, Sepulveda Basin Wildlife Reserve, Friends of Santa Monica Mountains, Tree People, Ca Native Plant Society, SW Herpetologists, Audubon Society, Sierra Club and more are doing their jobs but seriously need the help we can provide, to keep going.


Arts For Earth Foundation is organizing the arts to help rescue of the rescuers! When we paint Native landscapes and native animals we can touch the hearts of so many people who care and want to help. As artists we make wildlife come alive in their hearts. Our passion creates compassion for our subjects. You know it's true. And by donating our images to auction (originals, jpgs, cards, prints) we can feel the satisfaction of knowing that we have done our personal best to help the Earth we love.


Let's talk quality of life. Is our time here merely meant to be a struggle? Or can we assist with the betterment of life for the children to come!


Please paint your surroundings and the wildlife that live there. Be part of a healthy ecosystem. Join Arts For Earth Foundation today and paint for a better tomorrow.


Your paintings will be part on the solution when they are auctioned at Southern Californias only Conservation Gala just befor the winter holidays! Your participation in pre-Gala media events will help highlight the reason for the season. Gifts at auction will entertain, educate and enlighten. Funds gathered will not only support "our" cause & further our mission, but will enhance our quality of life here on Earth! (for generations to come).


Join Arts For Earth Foundation today for only $35/year and paint for a brighter tomorrow: ArtsFor Earth.org


Or: Send the attached form with your check or donation to afef. p.o. Box 1992 Frazier Park, CA. 93225


For more info call: 661-803-7744


Meetings in North Los Angeles County will be Starting in September on the third Tuesday of each month. Location to be announced. Suggestions for suitable meeting halls are gratefully appreciated.
- Show quoted text -





On Mar 7, 2011, at 2:46 PM, Joette Snyder wrote:




Please let me know what you want to say about getting some members thank you.\

JOIN ARTS FOR EARTH AND BECOME A CONSERVATION ARTIST!
Come visit Arts For Earth Foundation in Frazier Park Wednesday through Sunday Noon-5. Our mission is to educate and support sustainable living through the arts.

Arts for Earth designs Interpretive displays for the Los Padres National Forest and organizes area nature and arts groups for youth including the El Tejon School District, under the Arts For Earth Foundation Youth Program


Joette Snyder
http://joette-snyder.artistwebsites.com/
http://www.joettesgallery.com/wp
January 27th, 2011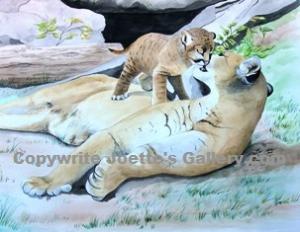 Mountain Lions and Predator Control Program, the Balance of Nature
Joette Snyder is a wildlife conservation artist, who likes to work in watercolor and graphite pencil. She can help these causes by purchasing a print or original artwork as 15% of profit is donated to wildlife preservation http://joette-snyder.artistwebsites.com or contact her at Joette@joettesgallery.com
Federal Governmental Wildlife Predators, how did this happen? It is not just Nevada that is controlling our Wildlife Population by killing millions of mountain lions, wolves, coyotes, bobcats and more. Well how does this profit? Certainly not our wildlife, Mother Nature can do a perfect job without costing or using the taxpayers' monies.
Wild Horses and Burros would be kept in controlled numbers by natures predators, wolves, mountain lions (cougars) would have done their job of weeding out the sick and the weak. The only ones better off with killing preditor wildlife is the recreational hunters and ranchers. The heads of these federal departments and a form of "welfare ranching," this allows commercial producers to graze livestock on public lands at below-market rates and fence waterholes for their livestock use. Can you imagine being thirsty, bring your family (herd) to water and it is fenced off with cattle or sheep using it! The Kill methods used to eliminate predator wildlife is vicious it includes aerial hunting, trapping, snaring and poisoning. (Palin knows all about these methods in Alaska). Then the round-ups are equally vicious in nature by scaring and running the mustangs to the ground.

September 28th, 2010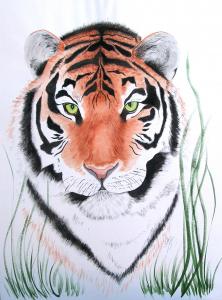 Purchase Art and Help Save Endangered Wildlife.
Urgency for the Tigers, they are on the brink of extinction which I hope we are all aware of.
At one time 100,000 or more tigers roamed the wilds of Asia, now as few as 3,200 remain. I am dedicated to bring attention to the lost of Our Wildlife. Every piece of Art I create and sell I will donate 15% of my profit to a Wildlife Conservation of your choice! Now for some facts:

The World Wildlife Fund links the the decline to a belief among the Chinese that tiger bones and organs have medicinal benefits, which results in making tiger poaching very profitable. So much so that it led to China creating tiger factory farms. The World Wildlife Fund has a video that tell that story.

The Wildlife Conservation Society (WCS) has done extensive research with their scientist and researchers solve the problem before extinction in the wild. With only 1,000 breeding females found in the wild and none in Cambodia, China, Vietnam and North Korea.

In the WCS has reported they looked at existing tiger habitats to see what worked and what didn't. They (The Wildlife Conservation Society) identify the exact 90,000 sq. kilometers that needs to be protected from poaching of tigers and their prey. It was calculated that it will cost only $4 per hectare a year to protect the land tigers need for survival.

Focusing the work in India (50% of the world's tigers with 33% available habitat), in Sumatra in the rugged Mount Leuser area where it is hard to access the area so tigers have a chance for their survival and the halt of poaching and deforestation. In Russia the 1st country to ban tiger hunting in 1947 they brought 30 Siberian tigers back to 500 by 2005. Since then they have declined by 40%. Malaysia in the 1950s had 3,000 tigers, the last count I presume was in the 90s there were down to 500. Thailand has fewer than 300 tigers in an isolated mountainous area where it can sustain a larger number of the big cats.

Lao People's Democratic Republic where poaching and habitat destruction is the some of the worst it is estimated only 7 to 23 tigers are there now. WCS is working with the Lao Government to protect the tigers. To find out more about WCS's plan visit this website www.wcs.org it time for me to take a break and finish a new painting.

August 29th, 2010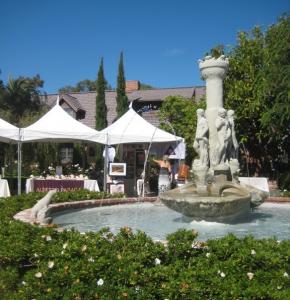 Sunday, August 22, 2010 was the California Wildlife Center's "Fawntasia" benefit for our native wildlife. It was a beautiful day at a beautiful place doing beautiful things for our wildlife rehabilitation. I was there helping my friend Michelle Nosco, founder of Arts for Earth Foundation. Arts for Earth have generated thousands of dollars in donations to the California Wildlife Center by creating pet portraits for their supporters. www.californiawildlifecenter.org.
We arrived at Gull's Way Estate in Malibu and set up the booth in a great location. I was a great success, wonderful entertainment and food. Michelle donated a pet portrait for the silent auction. There was over 800 items for the Silent Auction and 8 high dollar items in the Live Auction. I personally met Gilles Marini, the hunky movie and television star, (Sex in the City, Brothers and Sisters, Dancing with the Stars). This man is so sweet and kind, what a thrill, he actually followed me to our booth and I showed him the three original drawing I had on exhibit and he took my business card. Really cool!
Next year I plan to have a piece in the Live Auction.

June 11th, 2010
I have always loved horses and as a child drew them all the time. These are magnificent creatures and a part of our heritage. Drawing the wild mustangs saddened my heart thinking about the plight of these wonderful creatures. But what really maddens me is what is going on in our nation and the BLM. This organization is not doing its job as they were hired to do. They are not up upholding the R.O.A.M Act which was put into effect in 1971.

Prints available at www.joettesgallery.com 10% of my profit is donated.

Why does the Bureau of Land Management (BLM) need to round up wild horses and send them to slaughter? In the BLM's words, the agency can't "allow horses to multiply unchecked on the range without causing an environmental disaster." But there are less than 30,000 wild horses on the range versus at least 3 million grazing cows. Rather than address the environmental damage caused by cattle overgrazing and expanding oil and gas exploration on our public lands, the BLM would rather give in to corporate cattle ranchers who view mustangs as competition for grazing land, and drive wild horses — one of our land's symbols of free spirit — to extinction. This drives my passion to preserve their beauty.

This is information sent to me from my friend:

I am sick and tired of all the 'privileges' the government give to the ranchers. These people are literally stealing the public land and getting rich with our tax dollars. Farmers are also getting rich with tax dollars: they are being paid $42.oo/acre for not cultivating their land. I know of a farmer, here, in Seal Rock who owns 3000 acres in Idaho. He does not cultivate it and gets $42/acre per year from the government $42.00 x 3000 = $126,000.00 per year. He is a millionaire and it is all in tax dollars that we have to pay. This guy still live in Idaho, but a few years back he built a mansion on the Coast in Seal Rock. The majority of the public does not know about these deals that the gov. makes with special interest group.

For the wild horses, I am sick to know they are going to be killed to favor the cattle ranchers. It is shameful... I wish I could adopt some horses.
Our Tax Dollars................ The True Story




All the information you need can be found at www.thecloudfoundation.org

Help philanthropist Madeleine Pickens, save wild horses in America at www.SavingAmericasMustangs.org

June 7th, 2010
This watercolor painting recieved an Honorable Mention at the Visions and Views juried art show last week. This was held at the VIVA Art Center in Sherman Oaks.

Tigers are on the ten most endagered species list!
My painting of "Tiger Tiger Where!" is dedicated to bring attention to the plight of disappearing big cats. Since 1900, the tiger's habitat and numbers have been reduced by up to 95 per cent. Poachers, poisoned waterholes and steel wire snares all intended to kill tigers and tiger prey. Why? To sell their skins and body parts for traditional Chinese medicine.

International conservation efforts have been doing their best for 20 years, to save tigers and other endangered species, are losing ground to save the tiger and all sub-species. This has become critical.

Three subspecies of tigers have become extinct in the last 60 years, this averages out to be about one every 20 years.

•Bali tiger extinct in the 1930's
•Caspian tiger extinct in the 1970's
• Javan tiger extinct in the 1980's
Tigers in the 1900's numbered over 100,000 then dropped to 4,000 in the 1970's. Now they are a critically endangered species with only five remaining subspecies living in small, isolated populations in widely scattered reserves.

The Bengal tiger, or Royal Bengal tiger, roams a wide range of habitats including high altitudes, tropical and subtropical rain forests, mangroves, and grasslands. They are primarily found in parts of India, Nepal, Bhutan, Bangladesh and Myanma.

Indochinese tigers are located across southern China, Vietnam, Malaysia, Cambodia Laos, Thailand and eastern Burma. It is estimated fewer than 1,500 Indochinese tigers are left in the wild. However since the tiger has a very wide range, it makes it difficult for researchers to determine the exact numbers. Some scientists believe the numbers may be a few as 1,200.

The Siberian tiger (or Amur- tiger), is considered a critically endangered species with the primary threats to its' survival in the wild being poaching and habitat loss from intensive logging and development. It is estimated the wild population of Siberian tigers at around 350-450 tigers.

The South China tiger is the smallest of all the tiger subspecies, and it is the most critically endangered. Little is known about their exact numbers in the wild, but some estimates would put the number at under 20 tigers. Others would say that estimate is high. The reality is that no South China tiger has been seen in the wild for the last 20 years.

The Sumatran tiger is found only on the Indonesian island of Sumatra off the Malaysian Peninsula. Their habitat ranges from lowland forest to mountain forest and includes evergreen, swamp and tropical rain forests. It is estimated that only between 500-600 Sumatran tigers remain in the wild, and the actual number may be as low as 400. And their population is dwindling rapidly

The tiger is a critically endangered and was once found in a vast region of wilderness that extended as far north as Siberia, as far south as the Indonesian island of Bali, as far west as Turkey, and as far east as the Russian and Chinese coasts. From icy cold mountains and forests to steamy, tropical jungles, the tiger species has adapted to a variety of terrain. Tigers prefer to live in densely covered land so they can hide in tall grasses and camouflaged by their dark stripes, to ambush their prey.

Again with most endangered species, Tigers are losing habitat and compete with expanding human population and industry for land and food, and along with being killed by poachers who sell their skins and body parts as stated before for ingredients for traditional Chinese medicines.

If trends continue, the wild tiger could evolve from being an endangered species to become and extinct species and that would be a crime. We would only see painting, photos and visit them in zoos. You can help by checking out the links I have listed below. Thank you for data and references below.

www.tigersincrisis.com